Diesel Engine Centrifugal Water Pump
Diesel Engine Driven Centrifugal Pump delivery great power for pump to pump out up to 47 meter head and max flow up to 34 l/s.
Self-priming centrifugal pumping set, capacity 939cc, 24hp @1800rpm. The pump is coupled directly to a diesel engine with matching power requirements.
Features:
● Durable frame for outdoor use.
● Pump casing, shaft and impeller are made from cast iron.
● Low Fuel consumption.
The pumping set is used for pumping surface water, maximum suction lift of 5 metres (potentially up to 7 meter on request), from shallow wells, rivers, and lakes.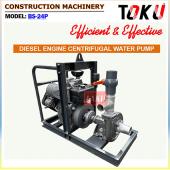 Diesel Engine Centrifugal Water Pump (BS-24P)
View Detail