Features:
● Can be used on concrete, tarmac, asphalt, metal etc.
● One 840ml tin can produce 60-100 meters of lines.
● Touch dry after 20 minutes.
● Extra thick paint - longer lasting.
● Ideal for indoor and outdoor use.
● Easy to use - deploy paint in seconds.
● Rubber handles - excellent grip at all times.
● Trigger feature allows for easy paint application.
● Rear wheels can be set to turn within 180°.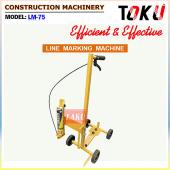 Line Marking Machine (LM-75)
View Detail