Mortar Pump
Features:
● Compact design consists of Mixer, Stone Filter, Hopper Mixer and Peristaltic Pump.
● Mechanical operated with electrical speed control to meet all job demands.
● Enables pumping of heavy, fibered, thick and abrasive materials at high volumes.
● The pump's mechanical maintenance is limited to hose wear. Pumped material does not come in contact with any moving parts.
● With a symmetric design, forward motion of material is constant, thus eliminating back pressure and is perfectly reversible.
● Replacement of hose is quick and easy.
● Heavy Duty chassis and tough construction.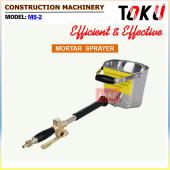 Mortar Sprayer (MS-2)
View Detail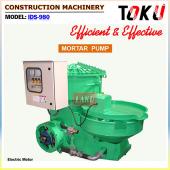 Mortar Pump (IDS-980)
View Detail